Submitted by Editor on Fri, 2007-10-05 13:49.

2 comments
28 Jul 2007
We're back ! Quite updated and many new photos added.
News this month:
The al-fresco seating area of the newly refurbished Old Airport Road Food Centre

Did you know that the newly upgraded Old Airport Road Food Centre has re-opened on 1st July 2007 ? All your favourite stalls are back in a spanking new complex that looks a lot like the old one except for the new tiles, tables/chairs and some alfresco seating. Stalls seem to have been re-allocated back to their original positions or thereabouts. They've done away with the not-so-helpful number+letter unit numbering and renumbered them in plain old sequential numbering.
The Ang Mo Kio Central Market/Food Centre is now closed for upgrading (HUP).
Well, the month-long Singapore Food Festival 2007 has come to uneventful end (for me). Next up is Eat Healthily Month (yes, I made this up), so let me introduce one of this round's new entries Yong Xiang Xing Dou Fu 永祥兴豆腐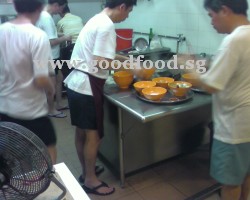 If that's just too healthful for you, then maybe you could consider our first Crystal Jade outlet entry instead.

read more
|
4 comments
Hello there,
Welcome to Singapore's favourite food site, GoodFood.SG. You'll love our meticulously organized and categorized directory of hundreds of dishes and food outlets spread throughout Singapore's food centres (traditionally called 'hawker' centres), coffeeshops, food courts and restaurants.
GoodFood.SG was conceived as a foodie site with a focus on Singapore's local food and indigenous cuisine (usually with ethnic and regional influences). These are almost always sold as street food in the ubiquitous hawker centres, but are also available at some restaurants and foodcourts.

read more
|
1 comment