Bak Kut Teh
Pork ribs soup. There are two main styles of cooking, the first serves up peppery and saltish clear soup. The second variety consists of a darker soya-sauce coloured soup with herbs and spices such as cinnamon.
Ng Ah Sio Pork Ribs Soup is located in a corner of Hong Building near the end of Rangoon Road.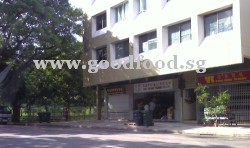 By 3pm, Ng Ah Sio is closed for the day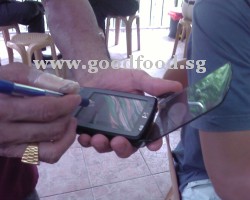 My my, look at uncle's shiny gargantuan gold ring. Oh btw, the nifty gadget with the flip is an HP PDA which zips your order over Wifi to the kitchen. Cool eh ?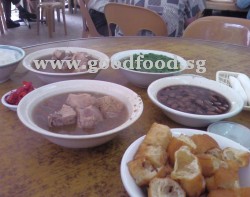 The ensemble of traditional bak kut teh dishes - the ribs soup, braised groundnuts, youtiao and vegetables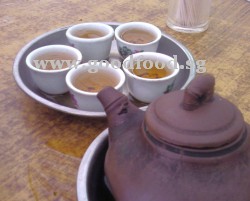 Try the chinese tea which is not the usual tiekuanyin but a fragrant brew that leaves a sweet aftertaste
Categories: Chinese, Bak Kut Teh, Soups
Located at Hong Building, 208 Rangoon Road., Singapore 218453

Show me on map
This is the famous stall that made the headlines in Singapore and Hongkong in July 2006, when it refused to open beyond its usual operating hours to serve Hong Kong Chief Executive Donald Tsang. It made the news again in January 2007, when ex-Prime Minister of Thailand, Thaksin Shinawatra, 4 months after his ousting in a military coup, made his way here for lunch in a visit to Singapore. He reportedly ate with an entourage of 17 and after that gave the thumbs up to Mr Ng, the shop owner. What more can I say ? And where else can you pay less than $10 for a meal and maybe get to eat beside the movers and shakers of Asia ? Right here at this little corner of Rangoon Road.
Email this page
---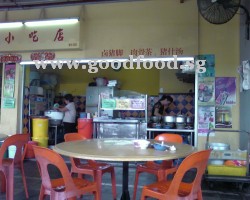 Ke Shun Ji Bak Kut Teh is at Turf City's central entrance.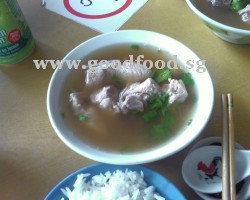 $4.50 for this bowl of bak kut teh with rice.
Categories: Chinese, Bak Kut Teh, Soups
Located at #01-53 Turf City, 200 Turf Club Road., Singapore 287994

Show me on map
This nondescript open-air bak kut teh stall/shop was discovered near the central entrance of Turf City shopping mall. Serves up a decent bowl of pepper-garlic-style pork ribs soup for $4. Also sells braised pig trotters (卤猪脚).
Email this page
---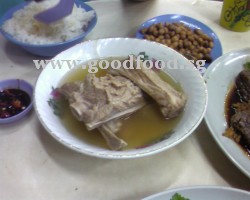 A bowl of pork ribs soup from Hock Kee at Block 210 Food Centre, Toa Payoh Lorong 8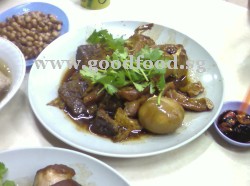 Mixed plate of pig's tripe, intestines and innards, braised eggs, taupok and doufu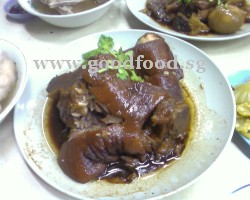 A very meaty piece of braised pig trotter.
Categories: Chinese, Bak Kut Teh, Soups
Located at #01-115 Market & Food Centre, Block 210 Toa Payoh Lorong 8., Singapore 310210

Show me on map
The bak kut teh here is the clear and peppery type, although the spiciness of the peppercorns used is very mild and weak. The pork rib meat was done just right, tender (seemingly from long slow-cooking) and not overly stiff like what you usually get at the Balestier Road stalls. Overall, this stall is one of the better choices for BKT and braised pork trotters in and around the Toa Payoh region. $30+ will get you and 3 companions a full meal - a generously-sized braised pork trotter; 4 bowls of pork rib soup; a plate of mixed pig tripe/intestines/innards, tofu and braised eggs; one plate of steamed peanuts; a plate of garlicky (lightly) salted vegetables; and rice per pax. Incredible value for money !
Email this page
---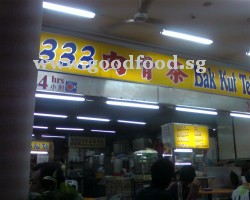 333 Bak Kut Teh is open 24-hrs and located in front of a bus-stop
The standard bowl costs $4.50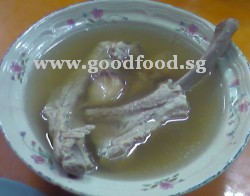 The spare ribs soup bowl costs $6.50 - very sparing indeed !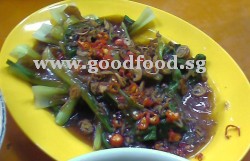 Slurp ! The stir-fried xiao bai chai with chilli was quite tasty
Categories: Chinese, Bak Kut Teh, 24hrs, Soups
Located at 333 Balestier Road., Singapore 329765

Show me on map
This 24-hours bak kut teh shop is found next to a bus stop along Balestier Road. I found prices here quite unjustified when benchmarked against Founder's (unit 347 a minute's walk away). The usual BKT bowl costs $4.50 and the not-so-generous spare ribs soup cost $6.50. The chye buay (preserved vegetables) costs $2 - double that of Founder's (as at this time - early 2007). To be fair, most of the side dishes were rather well-cooked and tasty. Would I come again ? not likely given the many other BKT choices in this area. Also, I'd rather try the late-night porridge supper buffet at Quality Hotel not far from here.
Email this page
---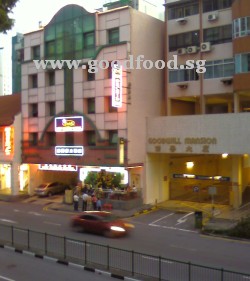 New Orchid Hotel is next to Goodwill Mansion, and where Founder Bak Kut Teh is located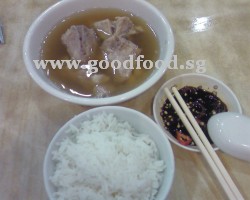 The standard bak kut teh serving is $5 (excl. rice). Quite reasonable considering that meat portions are above average and you get to eat in air-conditioned comfort
Categories: Chinese, Bak Kut Teh, Soups
Located at 347 Balestier Road (New Orchid Hotel), Singapore 329777

Show me on map
Located at the first floor of a budget hotel and opposite the Shaw Plaza, this air-conditioned pork ribs soup restaurant is popular with food lovers and the queue starts forming from dinner time until as late as 10pm, even on weekdays. Overall quality has been maintained over the years. Go also to see the photo posters of movie stars and celebrities from Singapore, Hong Kong, Taiwan having their food at this restaurant. Tel:6352-6192.
Email this page
---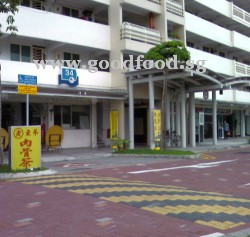 Lao Ah Di is located in an HDB coffeeshop in a curved HDB block between Bendemeer Road and Serangoon Road.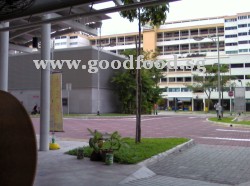 Lao Ah Di's shop is not far from the NEL's Boon Keng (NE9) MRT station, which means it is also near the Bendemeer Block 29 Food Centre.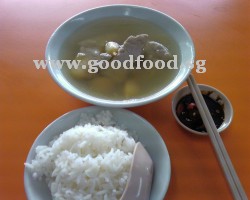 $5 brings you this bowl of pork ribs soup, a bowl of rice, a saucer of fresh chilli in black soy sauce and a plastic-wrapped wet serviette.
Categories: Chinese, Bak Kut Teh, Soups
Located at #01-67 Block 34 Whampoa West., Singapore 330034

Show me on map
Lao Ah Di's bak kut teh (pork ribs soup) belongs to the clear-peppery-style category. The meat was rather bland and tasteless and you'll need the black soy sauce and chilli they provide in the small saucer. The soup, though, was sufficiently peppery without being overly spicy. The whole cloves of garlic in the soup no doubt helped as well. Open from 7am to 3pm, and closed on Mondays.
Email this page
---
Eng Kee Bak Kut Teh is in Teck Ghee Court Market and Food Centre opposite Bishan Park.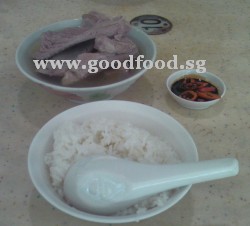 Eng Kee's bak kut teh has generous servings of pork rib meat and the soup is refreshingly peppery.
Categories: Chinese, Bak Kut Teh, Soups
Located at #01-04 Teck Ghee Court Mkt and Food Centre, Blk 341 Ang Mo Kio Ave 1, Singapore 560341

Show me on map
Email this page
---
Categories: Chinese, Bak Kut Teh, Soups
Located at #01-06 Chong Boon Market and Cooked Food Centre, 453A Ang Mo Kio Avenue 10, Singapore 561453

Show me on map
The bak kut teh here comes with bony pieces of pork and is really run-of-the-mill and disappointing. The braised pig trotters does better and is a more popular choice among diners. Don't confuse this stall with Eng Kee Bak Kut Teh, located at Block 341 Ang Mo Kio Avenue 1, which is a better choice by far.
Email this page
---
Block 347 Jurong East Avenue 1 Market & Food Centre. This picture was taken from the opposite HDB block. At the top of the photo is Jurong Lake which includes the Chinese Garden.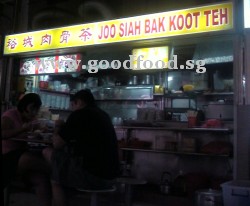 Joo Siah Bak Koot Teh occupies three units (from #01-221) of normal hawker stall space at Yuhua Place Block 347 market and food centre.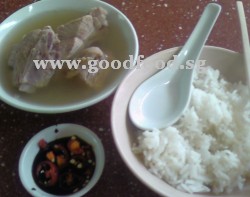 What you see here is the $4 bowl of standard bak kut soup with rice. Soup top-ups are free.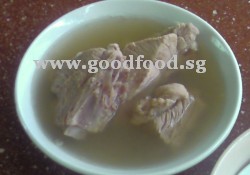 A closer look at the pork ribs in the standard $4 order.
Categories: Chinese, Bak Kut Teh, Soups
Located at #01-221 Block 347 Jurong East Ave 1, Singapore 600347

Show me on map
Joo Siah's bak kut teh still maintains its consistency after all these years in business. The soup is as peppery as ever. Unfortunately they were out of the meatier $6 spare ribs portions even though I was there at 530pm. So go in the morning or during lunch time for more choices if you want a wider selection. The nearest train station is Chinese Garden MRT station which is about 5 minutes walk away.
Email this page
---

login
to post comments |
email this page