Chicken Rice
The well-known dish made famous to foreigners by the Chatterbox restaurant at the Mandarin Hotel in Orchard Road. Most versions originate from the Hainanese style of steamed chicken served with chicken stock flavoured rice. Today, most stalls offer a 'brown' or roasted chicken meat as well and this version is probably even more popular than the 'white' steamed version which is more difficult to keep as fresh. Some places offer a rarer soya-sauce steamed version that is not roasted.
Categories: Chinese, Chicken Rice, Hainanese, Halal-Muslim
Located at #01-259
Moved !
Now at Block 354, Clementi Avenue 2. (Old address: Beng Sin Eating House, Block 46-1 Commonwealth Drive (near Tanglin Halt Market & Food Centre))., Singapore 120354

Show me on map
Thanks to a tip-off reader Rehana, I realized this shop has moved out of their old Tanglin Halt 46-1 address (probably in Dec 2006). Remember to check out their new location and see if the food is still as good !
Tel:6774-1353.
Email this page
---
Categories: Halal-Muslim, Chicken Rice, Malay
Located at #01-5134 Block 2, Jalan Bukit Merah, Singapore 150002

Show me on map
HDB block beside SAFRA Bukit Merah.
Email this page
---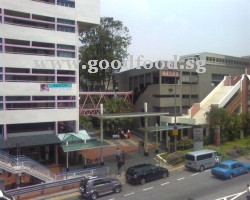 Bukit Merah Central. Carparks are below the food centre itself, at the Surbana HDB buildings and near the Bukit Merah Bus Interchange where this photo was taken. Open air ones are season parking only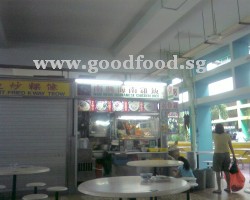 Nan Heng is located at a quiet corner of Jalan Bukit Merah Blk 163 Food Centre.
Categories: Chinese, Chicken Rice, Hawker
Located at #02-28 Bukit Merah Central Food Centre, Block 163 Bukit Merah Central, Singapore 150163

Show me on map
Email this page
---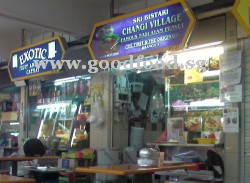 Sri Bistari is located at the basement of Golden Mile Food Centre in Beach Road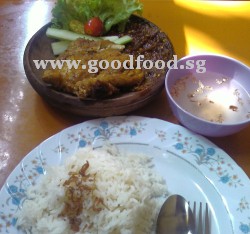 Ayam penyet - a chicken thigh-wing that is pummelled to loosen the meat from the bones
Ah ha ! Murder most fowl - a closer look at the poor piece of smashed up chicken meat
Categories: Indonesian, Halal-Muslim, Malay, Chicken Rice
Located at #B1-31 Golden Mile Food Centre, 505 Beach Road, Singapore 199583

Show me on map
This is the Golden Mile (Beach Road) hawker centre branch of the Sri Bistari chain of ayam penyet (smashed fried chicken), which is an Indonesian (the owner of Sri Bistari reportedly first discovered the dish in Batam) version of chicken rice where a chicken thigh/wing is pummelled and served on a wooden board with a sweet chilli paste and vegetables. It seems the hype over this dish, starting from the end of last year(2006), has died down somewhat. The verdict: a pretty average fried chicken and passable rice to go with it. The best part was actually the chilli paste, which was spicy yet sweet and had a tinge of garlicky flavour (another of my fav. spices).
Update May 2007:
On a second trip here, my friend and I both agreed that the standard (specifically the fried chicken) has dropped and is now barely passable. Nope, pummelling a not-so-tasty fried chicken thigh/wing isn't going to make it taste any better. Let's hope they do something about the quality of the chicken. I'd hate to see this dish disappear from the Singapore food scene.
Email this page
---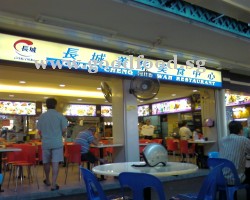 The coffeeshop occupies a corner of Toa Payoh HDB block 111
Categories: Chinese, Chicken Rice
Located at 长城美华美食中心 Chang Cheng Mee Wah Restaurant, Block 111, Toa Payoh Lorong 1., Singapore 310111

Show me on map
Email this page
---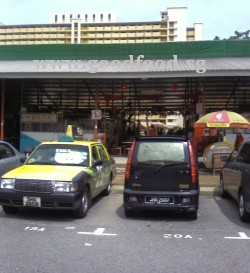 The temporary Whampoa Market and Food Centre Block is not the most comfortable of places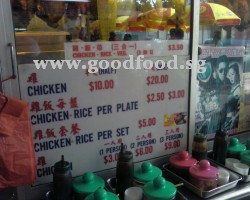 Loy Kee's stall at Whampoa, you can see the Yummy King poster on the right
Categories: Chinese, Chicken Rice, Hainanese, Hawker
Located at #01-567 Whampoa Food Centre (temp site replacing former Blocks 90 & 91), near Block 90, Whampoa Drive, Singapore 320090

Show me on map
This stall has branched out into many outlets throughout Singapore including West Mall, Eastpoint and Marina Square among others. It also has a corner coffeeshop-style eatery along Balestier Road. I ordered a roast chicken rice packet here on a Sunday (Mar 2007), and the rice and chicken meat were both not up to par. It was totally unexpected considering that this stall was once a Yummy King awardee (you see the placard on their stallfront) and endorsed as "Chicken Lickin Good" by Margaret Chan in the Sunday Times (marketing blurb on their white styrofoam packets). Truly, another stall/chain that has fallen victim to the curse of the foodie award and chain expansion. I can't say for the other outlets, but for this one: not worth your trip at all.
Email this page
---
Categories: Chinese, Chicken Rice, Hawker
Located at 191 East Coast Road, Singapore 428897

Show me on map
Email this page
---

login
to post comments |
email this page