Crab
General category for all sorts of crab dishes. Cooking style varieties include steamed, pepper, chilli, cheese, cold, with beehoon, noodles and soup. Types of crabs include Alaskan, Sri Lankan, softshell and flower crabs.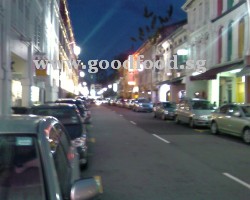 Lee Kui Restaurant is found at Mosque Street, about 5 mins walk from Chinatown MRT (NE4) station.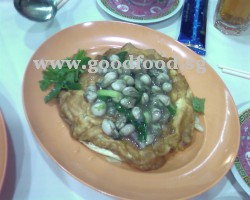 Lee Kui Restaurant's oyster egg comes with a generous serving of oysters.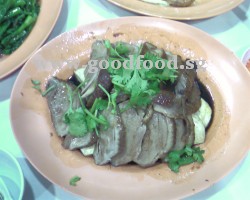 The 'goose' meat dish which is really duck meat !
The $28 braised pig trotters with chestnuts. Rather expensive considering it was very average and weak-tasting. At this price, I'd rather go for a German deep-fried knuckle version.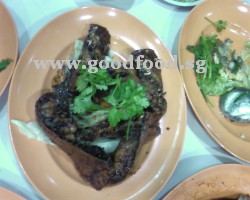 Pepper crayfish. One of the better dishes. A pity we didn't try the (steamed) fishes, which should be the pride and highlight for any Teochew restaurant.
Categories: Teochew, Zhi Char, Cold Crab
Located at 8/10 Mosque Street., Singapore 59488

Show me on map
This teochew restaurant has the usual dishes. However, note that the only crab dish here is the cold crab which is more expensive ($50/kg) than what you would be paying for a similar sized Sri Lankan chilli/pepper crab at other restaurants like Jumbo or Long Beach. Another traditional Teochew dish is the braised pig's leg with chestnuts (ter ka gao-luck) - which I find run-of-the-mill and expensive at $28 although it came as a rather large-sized one. You can get a similar half-sized braised pig trotter for about $5-10 at most bak kut teh or kway-chap hawker stalls.
Email this page
---
No.3 Crab is located among this row of shophouse eateries along Outram Road not far from Tiong Bahru
No.3 Crab Delicacy Seafood Restaurant has a choice of air-con indoor or alfresco dining options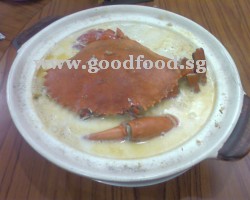 Claypot Crab with Bee Hoon Soup. Both the soup and the bee hoon tasted rather bland
Cereal prawns with curry leaves. Could have been spicier, but overall quite good
A crab claw from the claypot crab soup dish. Meaty but lacking in taste. Hey, crabs are supposed to taste crabby, did this one take a bath before cooking ?
Categories: Chinese, Crab, Seafood
Located at 265 Outram Road, Singapore 169059

Show me on map
This air-conditioned outlet, nestled among a row of other mostly Chinese food eateries along Outream Road, serves a range of Chinese and seafood dishes. The specialty, as the shop name indicates, is that favourite crustacean obsession of Singaporeans, crabs. You get your usual pepper/chilli crabs here, but also the crab bee hoon (thick rice noodles) in soup variety. However, the one that stands out is the curry crab which is kind of like the fish head curry pot dish, except that you get a crab in place of the fish head. I tried the pepper crab and it was passable or above average depending on which of my friends you asked - I thought it was quite good actually. The crab bee hoon soup, however, was a disappointment - the meat and the soup was rather bland. I've tasted better at Mellben. The cereal prawns we had were quite good - just not spicy enough for me in spite of the curry leaves. Fried prawns with cereal flakes, in my view, should have curry leaves fried together with chopped chilli padi(medium spiciness variety) - trust me, it tastes great together and makes a superb appetiser. Tel:6327-2148.
Email this page
---
Categories: Chinese, Prawn Mee/Noodles, Crab Noodles
Located at 83 Rangoon Road, Singapore 218369

Show me on map
Email this page
---
Mellben Seafood has opened a branch at Toa Payoh Block 211.
Hmmm.... yummy pork ribs king. I forgot if this is the coffee version. It sure looks heavily honeyed and sweet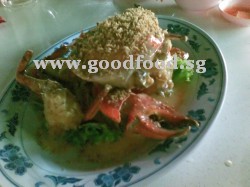 This is the Golden Sand Crab dish. The 'sand' is really oat flakes, and the crab is doused with a creamy peppercorn-laden cheesy sauce - phew ! as much a mouthful to describe as it was to eat
Crab in Bee Hoon Soup, their signature dish. Still a notch better the others I've tried
Leave no shell unturned
Categories: Chinese, Crab, Seafood
Located at #01-11 Block 211 Toa Payoh Lorong 8., Singapore 310211

Show me on map
This is the third branch of the original outlet at Ang Mo Kio Block 232. They are well-known for their crab bee hoon / noodle soup. The second branch is in Ang Mo Kio Block 233 (opposite the current one) and called Uncle Leong's Seafood. As I mentioned in the remarks about the main shop, the name Mellben often continues to be misspelt 'Melben' throughout the web. This branch's tel: 6353-3120.
Email this page
---
Tian Jin Hai Seafood is at the side of Jackson Kopitiam, beside Tai Thong Crescent
Crabs !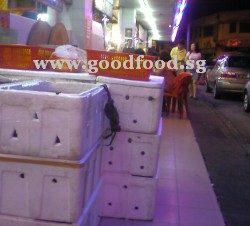 The one that almost got away !
Stir-fried chilli kangkong
Pepper crab - excellent !
Chilli crab with lotsa sauce
My my, what nice buns you have !
Deep-fried chicken
Youtiao (fried dough fritters) with salad cream
Categories: Chinese, Seafood, Crab, Hawker
Located at Stall 13 Jackson Centre Kopitiam, 39 MacPherson Road, Singapore 348468

Show me on map
This chilli crab and pepper crab specialist serves up some of the best value-for-money crabs around. It obviously does so by focusing solely on the food, ingredients and cooking, coz you'll find things here a little short in the service and ambience department. First the food court where it is located is a decrepit 80s'ish non-aircon building. Be prepared to get sweaty while you devour your crustaceans, spicy king prawns, crayfish and fried chicken here. Thankfully the stall is located at the side of the building (it gets breezy if you're lucky) next to a side road with some parking lots (free after 5pm).
Warning No.2: you'll have to pay first when you order your food - unless you're Anthony Bourdain, who wrote about this stall in his piece for the New York Times on Singapore cuisine last year (2006).
I can only think of 2 reasons for this strange pay-first practice :
(1) some punks had previously eaten and sped off in their boy racer cars without paying.
(2) owner's a stickler for clean dollar notes - no chilli stains please !.
Well when you want great food and value-for-money, somethings' got to give. But where else can you get a nice crab meal for $20 per person (2 large crabs and side dishes for a group of 5) ? ... and I can honestly say the buns (to be had with the chilli crab's sauce) are the best I've tasted in a long time. No, make that in memory. Great buns, really.
2007 Jul update: well, it looks like I might have spoken too fast, the price of the crabs here, it seems, have gone up since my Mar 2007 visit, and is now about $40/kg. Well, quality is still there. Damned GST increase ! or maybe not...read on... This mini-hawker centre is going to close down soon (en-bloc fever ?!), and quite a few of the other seafood/hawker stalls have already moved out (did I hear someone say 'less competitition' ?). Fret not, cause Bayshore Delicious seafood (the one owned, I think, by actor Tang Hu) was spotted nearby in a coffeeshop nearby facing Upper Serangoon Road. Watch this space (www.goodfood.sg) for further news. Meanwhile, go now to savour your favourite food before it's gone !
Email this page
---
Categories: Chinese, Crab, Seafood
Located at 659/661 Geylang Road (junction with Lorong 35), Singapore 389589

Show me on map
Email this page
---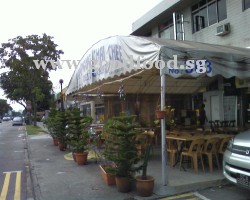 Kampong Chai Chee Restaurant is at a shophouse along Changi Road opposite the junction with Telok Kurau.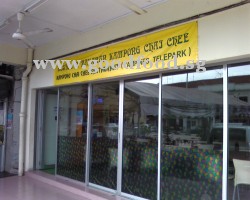 It actually occupies 2 shop units, one of them being air-conditioned.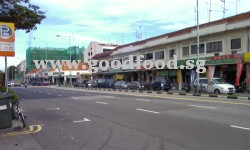 Across the road, there is no lack of eateries as well. One of the more well-known, for Indian curry fish head, is Thondamans Restaurant.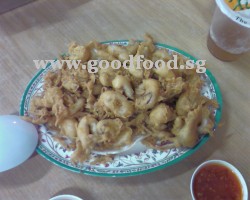 Kampong Chai Chee Restaurant's generous serving of fried calamari (sotong) rings
Categories: Zhi Char, Chinese, Crab, Seafood, Halal-Muslim
Located at 303 Changi Road (near Lorong Sarina)., Singapore 419781

Show me on map
This halal zhi-char (Chinese-style ala carte stir-fried dishes) eatery used to be located at Tampines Telepark building where it had a popular following. They've since moved to this shophouse along Changi Road next to a pet provisions shop. One of the few halal coffeeshop-style zhi-char eating places.
Email this page
---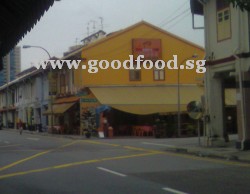 Kim's Place seafood coffeeshop is located at the junction with Tembeling Road.
Categories: Chinese, Hokkien Mee, Seafood, Crab
Located at 37 Joo Chiat Place., Singapore 427761

Show me on map
This seafood shop is famous for their cheese crab and fried hokkien mee (noodles). Tel:6742-1119.
Email this page
---
Eng Seng Restaurant is an old kopitiam located at the junction of Still Road and Joo Chiat Place
Categories: Chinese, Crab, Seafood
Located at 247/249 Joo Chiat Place, Singapore 427935

Show me on map
This old shabby-looking single-storey coffeeshop is one of the favourite crab eateries in the area. They are popular for their pepper crabs. You can't miss it when passing by Joo Chiat Place as the queue outside the shop will start forming around 6pm till 7/8pm. The kopitiam is not very small, so the main reason the queue forms, I believe, is due to their limited stock of crabs. The stall opens from 5pm till 9-10pm, but don't be surprised if you find the crabs sold out by 8pm on busy days!
Email this page
---
Mellben Seafood occupies a corner HDB coffeeshop in Ang Mo Kio block 233
Categories: Chinese, Crab, Seafood
Located at #01-1222 Block 232 Ang Mo Kio Avenue 3 , Singapore 560232

Show me on map
This shop is famous for their crab bee hoon / noodle soup. For reasons which I still have not ascertained, the name of this crab specialist has been spelt 'Melben' more often than the correct 'Mellben' which is what is used on their namecards. I myself am guilty of using the shorter form although I knew the spelling on the awning of the Ang Mo Kio outlet puts their name as 'Mellben' in large letters. It seems they made a name change some years back, and before the current location in Ang Mo Kio, they were situated in a Serangoon Central HDB kopitiam near the Lorong Lew Lian area. They have spun off a branch in Ang Mo Kio Block 233 (opposite the current one) called Uncle Leong's Seafood. Tel: 6285-6762.
Email this page
---

login
to post comments |
email this page