Duck Rice
Braised or roasted duck served with rice.
Both the Chinatown Complex market and food centre have shifted to a temporary site near the Outram MRT (EW16, NE3) train station. It is a tight squeeze and much stuffier now.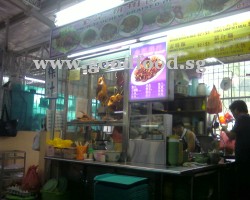 Jin Ji Teochew Braised Duck offers a range of duck rice, noodles, porridge and kway chap dishes
Jin Ji's braised duck meat and kway chap is one of the better ones in this area. The duck rice here is also one of the favourites of the more hurried
The extremely thin and soft kway chap is very easy on the gullet. Slurp it up and it slides effortlessly down your throat. I ordered another bowl and it didn't leave me feeling bloated after my meal
The secret here is really in the chilli sauce, a sourish concoction of minced chilli and garlic among other ingredients
Categories: Chinese, Duck Noodles, Duck Rice, Porridge, Kway Chap
Located at #01-162 Chinatown Complex, Blk 335 Smith Street.
NOTICE : This food centre is undergoing refurbishing and stalls have been temporarily relocated to a site near Outram MRT since Jul 2006.
, Singapore 50335

Show me on map
This unassuming stall serves up very thin and soft kway chap (flat rice noodles) unlike many others' thick noodle texture and often starchy taste. The braised duck is very well done without being overly salty. There is a choice of plain white or yam rice, as well as porridge or noodles if you're just going for duck dishes.
Email this page
---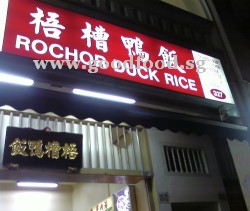 Rochor Duck Rice is found along Beach Road opposite the Concourse Residences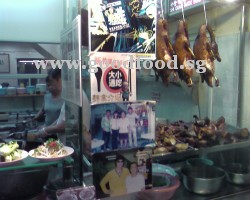 Their braised duck and side dishes are good. But it's the herbal soups that they're known for. Hey ! is that Bruce Lee in the photo at the bottom ? ;-)
Did someone ever say that good food comes from pot-bellied chefs ?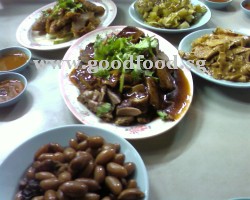 Here it is gentlemen, dinner is served ! Braised duck, hay chor (minced prawn sausages), tau kee (beancurd skin) and more.
And tonight's special - Rochor Duck Rice's shiquan herbal duck soup.
Categories: Chinese, Duck Rice, Mutton Soup (Chinese), Soups, Hawker
Located at 327 Beach Road., Singapore 199560

Show me on map
This stall has been featured in Yummy King and other media reports. Well, I managed to ramble down to it on a Saturday evening with some friends and tried out their herbal duck soup, braised duck and other side dishes. The food was quite tasty, the duck decently braised and the soup was well cooked (many hours I'm sure), so much so that the duck meat slipped off their bones easily. Piece of cake for those with lazy jaws :). The specialty of this shop (nestled in an old shophouse on the periphery of Kampong Glam and opposite the Concourse Residences) is its herbal soups, specifically its Shi Quan Ya Tang (十全鸭汤) which means 'complete duck soup' - a reference to the range of herbs and spices used in its brewing. And the verdict is ...... POWER ! I don't know the ingredients (ok, I do have some idea) but the soup dishes sure give a helluva strong kick to the tastebuds and senses. I think it is also what the Chinese elderly like to call 'heaty' - full of
yang
energy if it is to be so believed :) So be warned, this is hot stuff.
Email this page
---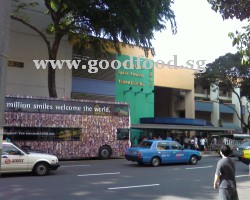 Tekka Centre comprises a market and food centre. It is located next to the busy road junction of Sungei Road and Serangoon Road, opposite the Tekka Mall shopping centre.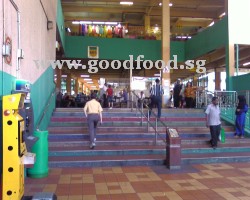 Tekka Centre has a good mix of Chinese, Malay and Indian food. Walk further into the centre, and you'll find the wet market selling meats, seafood, spices and fresh vegetables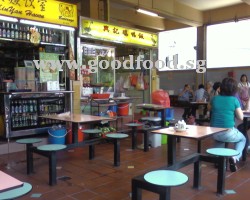 Xing Ji Goose and Duck Rice is found at a corner unit of Tekka Food Centre
Xing Ji Duck Rice's $3 plate of bony duck rice had good soya sauce seasoning and chilli. Pity the meat was not up to par for my taste
Categories: Chinese, Duck Rice, Hawker
Located at #01-406 Tekka Market and Food Centre, Block 665 Buffalo Road, Singapore 210665

Show me on map
Despite its recommendation by Makansutra some years back, the braised duck meat of this stall is disappointingly second rate. The saving grace was the chilli sauce and lor(soya sauce seasoning) which still could not hide the fact that the bony duck meat didn't taste very fresh. With this standard for the common duck, I won't be venturing into goose territory.
Email this page
---
Categories: Chinese, Roast Meat (Chinese), Duck Rice
Located at #01-459 Lek Chew Restaurant(coffeeshop), Block 124, Toa Payoh Lorong 1., Singapore 310124

Show me on map
Email this page
---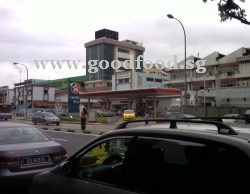 Cheok Kee Eating House is located along Macpherson Road opposite the Caltex petrol station.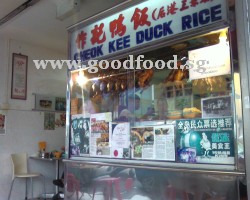 Cheok Kee Duck Rice occupies a shophouse along Macpherson Road.
Cheok Kee has one of the most nicely braised ducks that I know of - not over-done nor salty. Under the skin is a layer of fat to seal in the flavour of the duck meat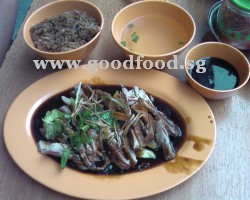 One of the more delicious braised duck meat eateries around. Try their other dishes like lotus root soup as well.
Categories: Chinese, Duck Rice, Hawker
Located at Cheok Kee Eating House, 520 MacPherson Road. (Opp Caltex Petrol Station)., Singapore 368213

Show me on map
Email this page
---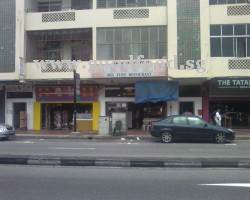 The roast duck and meat stall in Mei Yuen Restaurant, a shophouse coffeeshop along East Coast Road near the Esso petrol station.
Categories: Chinese, Roast Meat (Chinese), Duck Rice
Located at 233 East Coast Road., Singapore 428928

Show me on map
Check out the roast duck meat here.
Email this page
---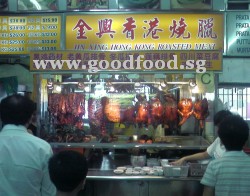 Jin Xing Hong Kong Roasted Meat occupies a normal stall unit in a corner coffeeshop facing the Serangoon Stadium
Think you know char siew ? Jin Xing's humble plate pictured here will change your mind about the dish
Categories: Chinese, Roast Meat (Chinese), Duck Rice
Located at #01-88 Block 214, Serangoon Avenue 4., Singapore 550214

Show me on map
This otherwise non-descript outlet (other than the bright lighting on the hanging racks of meats) is found in a corner HDB coffeeshop opposite the Serangoon Stadium / Swimming Complex. I am usually indifferent to roasted meat especially many so-called Hong Kong style ones. This stall, however, changed my mind and set the benchmark, not only for HongKong style roasts, but roast meat in general. If you've been eating red-coloured char siew (叉烧) then you won't know what you've been missing all this while until you savour the superbly done honeyed char siew (密汁叉烧 - mi zhi cha shao) from this shop. The other winners here are the crispy roasted pork (脆皮烧肉), roast duck and fried chicken. They'll take orders (a few days in advance) for roast pigs as well. Tel: 6283-3695. Opens 830am to 8pm daily while stocks last.
Email this page
---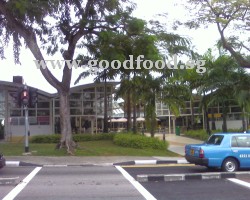 Serangoon Garden Market & Food Centre is just after the Shell petrol station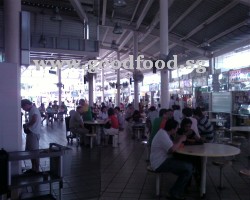 The airy high-ceiling'ed Serangoon Garden Market & Food Centre as seen from the Garden Street Kway Chap stall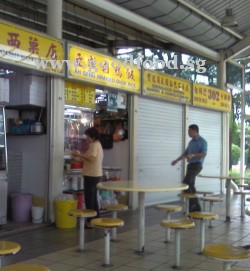 Ah Seng Braised Duck Rice is located near the corner Newton Circus 302 Char Kway Teow stall
This duck meat and rice with braised hard-boiled egg combo costs $3.50
Categories: Chinese, Duck Rice, Hawker
Located at Stall 44 Serangoon Garden Market, 49A Serangoon Garden Way, Singapore 555945

Show me on map
The rice here was clumpy and unimpressive. Although the duck meat was pretty good and fresh, the 'lor'(soya sauce) served with it was way too salty for my taste.
Email this page
---

login
to post comments |
email this page