Geylang
The famous Geylang Road area, includes its own road namesake, Sims Avenue and Guillemard Road areas. Geylang is as famous for its late-night food as it is for being the homeground of the world's oldest profession - it is one of, if not, the biggest night-life and red light district in Singapore.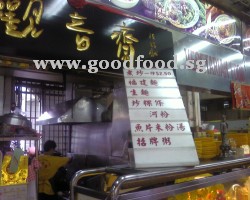 Kwan Inn Vegetarian Food's most popular dishes seem to be their mimic zhi-char dishes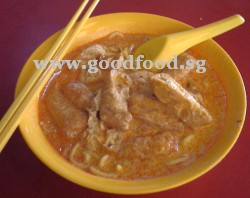 This hearty bowl of vegetarian laksa costs $2. A decent attempt, considering that no shrimps, belacan or ikan bilis could be used here
Categories: Chinese, Vegetarian (Chinese), Laksa, Yong Tau Foo, Zhi Char, Hawker
Located at Block 134, Geylang East Avenue 1., Singapore 380134

Show me on map
I'm told this vegetarian eatery was a previous Yummy King winner. It actually consists of a few stalls in a coffeeshop selling various vegetarian dishes that mimic conventional Chinese hawker food. The coffeeshop is at a corner-end of a row of HDB shophouses facing Sims Avenue. Some Buddhist temples are found in this area of Geylang, which explains why you'll see the occasional nun or monk buying their food at this shop. There are zhi-char-style vegetarian dishes, a vegetarian yong tau foo stall and a mixed rice/beehoon stall. Prices are very reasonable from $2 up. I've tried the mixed bee hoon several years ago which didn't leave any impression. A more recent visit saw me having a bowl of laksa which was pretty decent tasting considering that they couldn't use animal-based ingredients and condiments that many a good laksa maker tends to use, such as dried shrimps, mini ikan bilis (chinese silver fish 银鱼) and belacan paste. I'll be back soon for the zhi-char noodle dishes which seem to be popular going by a survey of the diners here.
Email this page
---
Categories: Chinese, Hokkien Mee, Hawker
Located at 549 Geylang Road (junction with lorong 29)., Singapore 389504

Show me on map
Email this page
---
Categories: Chinese, Satay, Hawker
Located at 549 Geylang Road (junction with lorong 29)., Singapore 389504

Show me on map
Email this page
---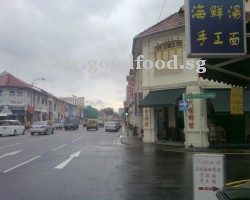 Geylang Claypot Rice occupies a corner shophouse along Geylang Road near Lorong 33
Categories: Chinese, Claypot Rice, Hawker
Located at 639 Geylang Road., Singapore 389570

Show me on map
Email this page
---
Categories: Chinese, Crab, Seafood
Located at 659/661 Geylang Road (junction with Lorong 35), Singapore 389589

Show me on map
Email this page
---
Categories: Chinese, Turtle Soup, Soups
Located at 659/661 Geylang Road (off Lorong 35) Sin Huat Eating House, Singapore 389589

Show me on map
Email this page
---

login
to post comments |
email this page