Halal Restaurants and Fastfood Outlets (Updated ! Sep 2007)
Halal Eateries By Zones
Click on the different parts of the Singapore map below to see the listings for that Zone.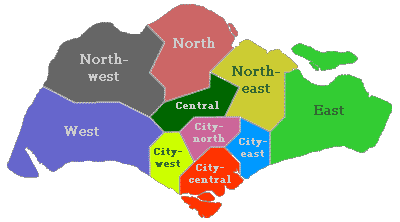 Some of Singapore's restaurant, fast food and cafe chains have recognized the Muslim community's desire for halal versions of popular foods including contemporary international cuisine, Chinese zhi-char, seafood and even Korean food. Over the years, some formerly non-halal chains have converted to be halal eateries and have not looked back since.
Today, there is no lack of halal eating places in Singapore. However finding one suitable for the occasion can be daunting, and even more so when you are in a hurry and need to find the nearest restaurant in the vicinity. For this reason, GoodFood.SG has compiled a list of air-conditioned halal eateries geo-organized by zones.
For outings and having a lunch or dinner with a group of friends, an air-conditioned setting makes it more comfortable and easier to have a conversation without too much of a sweat over your spicy food.
Whereas the ubiquitous McDonald's and Burger King can be found just around every corner, the more upmarket Breeks and Delifrance chains serve up a wider choice of western selections than the usual burger sandwich and fries.
For Korean barbeque hotplate and steamboat soups, we have Seoul Garden with their halal buffets and Zingdo for their kimchi and ramen. Thai food-lovers can turn to Siam Kitchen with their restaurants in many of the shopping malls around the island. Closer to home, we have Casa Bom Vento in Joo Chiat for halal Peranakan/Eurasian dishes and Sakunthala's Restaurant provides Indian thosai in Little India's Dunlop Street (see our main Halal-Muslim section for these last two restaurants).

login
to post comments |
email this page