Hokkien
The biggest Chinese dialect group in Singapore well known for their fried noodles (Hokkien Mee).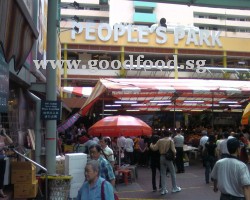 People's Park Food Centre has a confusing address of 32 New Market Road when it is really located at Park Crescent. Just remember it is outside Chinatown MRT Station beside People's Park
Chinatown MRT Station (NE4) stops at the doorstep of People's Park Food Centre
The usual oyster omelette above, and the not-so-usual bean sprouts with cockles. Ai hum mai ? ai ai ai !
One day I must try this
Fried oyster omelette, (a.k.a. orh luak) - the real thing
Char kway teow mee, not too oily, not too wet, not overly sweet
Categories: Chinese, Char Kway Teow, Fried Oyster Omelette, Hokkien Mee, Carrot Cake, Hawker
Located at #01-1016B* People's Park Cooked Food Centre, 32, New Market Road., Singapore 50032

Show me on map
*This stall has another outlet at unit#01-1136 diagonally across the main dining area of the hawker center. Now if you happen to be eating the yong tau hu from 永祥兴豆腐 (which doesn't come with noodles, rice or other starchy gooey staple stuff like beehoon), then you might want to order some dishes from this stall which offers an interesting list of fried noodle variants - from the usual fried kway teow mee (a.k.a. char kway teow), carrot cake, hokkien prawn mee (福建虾面) and fried oyster omelette (蚝煎), to the
Indonesian Fried Kway Teow Mee
(which the man-in-charge told me is a salty version of the Singaporean one) to the strange combo of
Bean Sprouts w/Cockles
, and finally the one-day-I-must-try
Oyster Fried Kway Teow Mee
. Now talk about having an unhealthy fixation with mollusks.
Email this page
---
Categories: Chinese, Hokkien,
Located at 112 Amoy Street, Singapore 69932

Show me on map
This spacious air-conditioned restaurant is located at the end of Amoy Street in the Telok Ayer Conservation Area, and opposite Far East Square. Favourite dishes here include the sinfully tasty kong bak pau (braised pork belly with buns) and the non-oily oyster omelette that's fried to a nice flaky crispiness.
Email this page
---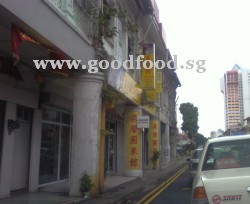 Quan Xiang Yuan Seafood Restaurant is in an old shophouse along Jalan Besar.
Categories: Zhi Char, Hokkien, Seafood
Located at 252 Jalan Besar, Singapore 208925

Show me on map
This is a traditional Hokkien cuisine restaurant in an old shophouse near the Jalan Besar Stadium and not far from Eminent Plaza. The specialties here include roasted duck served in sweet plum sauce, crab bee hoon (you have a choice of fried or soup versions) - the bee hoon itself has two variations the normal beehoon (米粉) and the tang hoon (冬粉) version which is a clear glassy noodle (they name it 'vermicelli' here which I believe isn't exactly correct). Dine in comfort be it lunch or dinner as the eatery is fully airconditioned. Tel: 6294-6254, 6292-9251.
Email this page
---
Categories: Chinese, Hokkien Mee, Hawker
Located at 龙山咖啡店 Long San Eating House, 566 Serangoon Road, Singapore 218181

Show me on map
Email this page
---
Toa Payoh Block 127 Market and Food Centre is located in an old neighbourhood bordered by Lorongs 1, 1A, and 2.
Categories: Chinese, Hokkien Mee, Hawker
Located at #02-27 Toa Payoh 127 Market & Food Centre, Block 127, Toa Payoh Lorong 1, Singapore 310127

Show me on map
This stall used to be at the corner of old block 135 (before the double-storey food centre, block 127 was built). Back then, seating was alfresco and tables overflowed onto the open area outside the hawker centre. Business was good and so was the hokkien mee. When I had my hokkien mee here in this replacement centre (under HUP), something seemed to be lacking although the same guy was doing the cooking. Was it the food or the atmosphere ? I wasn't totally sure. Perhaps it was purely psychological - the old hawker centre had a look similar to the Commonwealth Avenue (Margaret Drive) hawker centre. The laid-back feeling of having your noodles under the stars has somehow been lost to this spanking new food centre.
Email this page
---
Categories: Chinese, Hokkien Mee, Hawker
Located at 549 Geylang Road (junction with lorong 29)., Singapore 389504

Show me on map
Email this page
---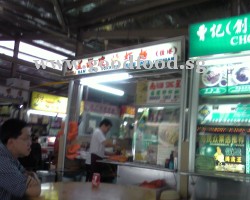 Nam Sing Hokkien Fried Mee at the temporary site next to the original Old Airport Road Food Centre which is undergoing upgrading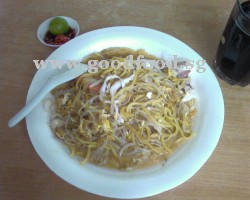 Nam Sing's version of fried hokkien mee is served with freshly cut red chilli rather than chilli paste as with most other stalls.
Categories: Chinese, Hokkien Mee, Hawker
Located at #01-115J Old Airport Road Emporium & Cooked Food Centre, Block 51 Old Airport Road.
NOTICE : This food centre has completed its upgrading under HUP and stalls have re-opened at its original location on 1st July 2007.
, Singapore 390051

Show me on map
The fried prawn noodle dish here is light on seasoning (such as salt and soya sauce) and drier than most others', but because of that it feels light and you get to taste the freshness of the noodles and sotong (squid). Go during off-peak hours to avoid the long wait.
Email this page
---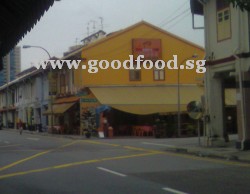 Kim's Place seafood coffeeshop is located at the junction with Tembeling Road.
Categories: Chinese, Hokkien Mee, Seafood, Crab
Located at 37 Joo Chiat Place., Singapore 427761

Show me on map
This seafood shop is famous for their cheese crab and fried hokkien mee (noodles). Tel:6742-1119.
Email this page
---
Katong Tua Pui Koon's stall is next to the famous Xing Ji Ruo Cuo Mian bak chor mee stall
Categories: Hokkien Mee, Fried Oyster Omelette, Char Kway Teow
Located at #01-06 Market & Food Centre, Block 85, Bedok North Street 4, Singapore 460085

Show me on map
Cooked by the man Tua Pui (or Fatty) Koon himself, this stall serves the four major fried hawker dishes - fried oyster omelette, carrot cake, fried kway teow and hokkien mee. I slightly prefer this stall to the other stall selling similar dishes a few units further.
Email this page
---
Chomp Chomp (Serangoon Garden Food Centre) by day. Most stalls only open in the late afternoon till late at night
Chomp Chomp by night, bustling with diners till late
Categories: Hawker, Hokkien Mee, Noodles
Located at #01-27 Serangoon Garden Food Centre (Chomp Chomp), 20 Kensington Park Road, Singapore 557269

Show me on map
Email this page
---

login
to post comments |
email this page