Indonesian
Traditional Indonesian food like nasi padang, sup buntut (oxtail soup) and avocado dessert.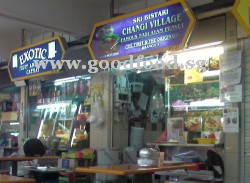 Sri Bistari is located at the basement of Golden Mile Food Centre in Beach Road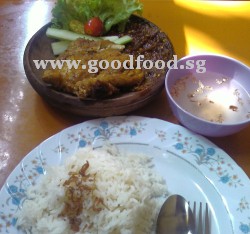 Ayam penyet - a chicken thigh-wing that is pummelled to loosen the meat from the bones
Ah ha ! Murder most fowl - a closer look at the poor piece of smashed up chicken meat
Categories: Indonesian, Halal-Muslim, Malay, Chicken Rice
Located at #B1-31 Golden Mile Food Centre, 505 Beach Road, Singapore 199583

Show me on map
This is the Golden Mile (Beach Road) hawker centre branch of the Sri Bistari chain of ayam penyet (smashed fried chicken), which is an Indonesian (the owner of Sri Bistari reportedly first discovered the dish in Batam) version of chicken rice where a chicken thigh/wing is pummelled and served on a wooden board with a sweet chilli paste and vegetables. It seems the hype over this dish, starting from the end of last year(2006), has died down somewhat. The verdict: a pretty average fried chicken and passable rice to go with it. The best part was actually the chilli paste, which was spicy yet sweet and had a tinge of garlicky flavour (another of my fav. spices).
Update May 2007:
On a second trip here, my friend and I both agreed that the standard (specifically the fried chicken) has dropped and is now barely passable. Nope, pummelling a not-so-tasty fried chicken thigh/wing isn't going to make it taste any better. Let's hope they do something about the quality of the chicken. I'd hate to see this dish disappear from the Singapore food scene.
Email this page
---
Categories: Indonesian, Gado Gado,
Located at #03-39/43 Lucky Plaza, 304 Orchard Road, Singapore 238863

Show me on map
Features gado-gado (vegetable rojak with peanut gravy), grilled chicken (ayam bakar) and fried fish (ikan goreng kipas). Serves with traditional Indonesian chilli/belacan sauces as well as desserts like avocado juice. Tel: 6235-3597.
Email this page
---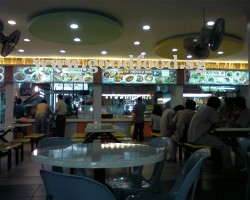 Dju Dju is found at a coffeeshop that was newly renovated in Aug 2006.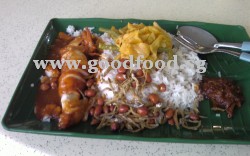 This nasi lemak rice combination includes a sweet sour chilli sotong(squid), curry vegetables and ikan bilis kachang. Total $4, seems a tad expensive, quite likely due to the sotong.
Categories: Indonesian, Curry Rice, Hawker
Located at #01-14 Blk 304 Serangoon Avenue 2, Singapore 550304

Show me on map
Email this page
---

login
to post comments |
email this page