News & Updates
28 Jul 2007
We're back ! Quite updated and many new photos added.
News this month:
The al-fresco seating area of the newly refurbished Old Airport Road Food Centre

Did you know that the newly upgraded Old Airport Road Food Centre has re-opened on 1st July 2007 ? All your favourite stalls are back in a spanking new complex that looks a lot like the old one except for the new tiles, tables/chairs and some alfresco seating. Stalls seem to have been re-allocated back to their original positions or thereabouts. They've done away with the not-so-helpful number+letter unit numbering and renumbered them in plain old sequential numbering.
The Ang Mo Kio Central Market/Food Centre is now closed for upgrading (HUP).
Well, the month-long Singapore Food Festival 2007 has come to uneventful end (for me). Next up is Eat Healthily Month (yes, I made this up), so let me introduce one of this round's new entries Yong Xiang Xing Dou Fu 永祥兴豆腐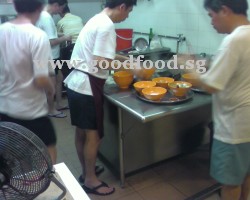 If that's just too healthful for you, then maybe you could consider our first Crystal Jade outlet entry instead.
23 Mar 2007
Update ! More phood, more fotos ! Check out the Macpherson hotspot for crabs, Tian Jin Hai Seafood. Haven't visited Bukit Timah for a while ? Then maybe it's time to try this char kway teow, or go for Al-Ameen's halal thai seafood. But my favourite this month has to be F&J's authentic Chongqing mala hotpot

.
22 Feb 2007
Happy Lunar New Year ! We've added more makan places and more photos over the past weeks. The Eurasian-Peranakan eatery Casa Bom Vento has moved from Joo Chiat to Seah Street (beside Raffles Hotel). Always frustrated with Mellben's crowded tables in Ang Mo Kio ? Try their new outlet in Toa Payoh.
25 Jan 2007
New updates ! As usual more eateries, more photos. No specific areas of focus, but we've added places all round - Geylang(new Area), Balestier, Outram, Tekka Centre, some here, some there.
Thanks to a tip-off from Rehana, we've updated our address for Evertop Hainanese Boneless Chicken Rice which is a halal Hainanese chicken rice stall. They've moved from 46-1 Tanglin to Clementi.
Finally, there are now street maps in addition to the satellite photos we've been using. Try out all the 3 views - click on the buttons at the top right part of the maps to see the old satellite photo view or a hybrid of both.


Remember, sign up and see more stuff.
5 Jan 2007
Update ! A lot more eateries and photos have been added to our website. This time round, many restaurants and traditional food shops in Joo Chiat and Katong(scroll down to Areas in right column) have been included in our database.
I've also compiled a list of food delivery contacts(see top of right column) covering pizza, burgers, cakes, sushi and 3rd party delivery companies - all on one page ! This list will be constantly updated, do send me any other delivery tels that you know of !
17 Dec 2006
We've updated our site again. More places, more photos. Another additional area (Bukit Merah) has been added.

A new forum section has been added with articles about food. Take the Shark's Fin Soup poll, then read the shark's fin soup - eat without guilt article and decide for yourself.
Nov 2006
We've updated our site with a lot more food outlets especially from the west and central-west part of Singapore.

We've also updated our privacy policy to explicitly state our assurance to not pass on email addresses to third parties.

We've added a clickable Singapore map in the Locations page. Click on the various parts of the map to go to one of the Zones.

Good news ! We have now enabled subscription to forum postings. Just click the "subscribe post" link (after the "email this page" link) of the post and you will be emailed of any new replies to the post.

You will need to be a registered user to have this feature. Sign up today !

login
to post comments |
email this page