North
Yishun, Sembawang and Woodlands are the major HDB towns located in the North zone where most of the population are located. However the quieter Sembawang Road and Jalan Kayu are more well-known foodie areas in this zone.
Categories: Chinese, Nasi Lemak (Chinese), Hawker
Located at 447 Sembawang Road, Singapore 758404

Show me on map
Email this page
---
Categories: Chinese, Fish Head Curry,
Located at Sembawang Gardens Arcade, 1 Jalan Legundi, Singapore 759263

Show me on map
Email this page
---
Categories: Seafood,
Located at Sembawang Gardens Arcade, 2-8, Jalan Legundi., Singapore 759265

Show me on map
This is located at a spacious standalone coffeeshop in Sembawang, with plenty of indoor/outdoor seating. It is surrounded by a few other eateries set in some old 2-storey shophouses.
Email this page
---
928 (Hakka) Ampang Yong Tou Fou. So many name variations and so many ways of spelling yong tau foo !
So this is hakka style niang doufu ? hmmm....drenched a little too starchily for my liking, but I quite like the crispy fried beancurd skins. Yay !
Categories: Chinese, Yong Tau Foo, Hawker
Located at 928 Upper Thomson Road, Singapore 787121

Show me on map
This hakka yong tau hu is a little different from the usual yong tau hu found in hawker centres / foodcourts. See the photo and go try it yourself to taste the difference. For one, there's a copius amount of green leafy vegetables thrown in with the dish. In fact, it seemed like more than half of the whole plate. Then there's the starchy gooey sauce that's used to douse the whole lot. Surprisingly, everything went quite well with a bowl of rice (plus chilli sauce of course). The stall itself is part of a bigger 2-unit coffeeshop that houses other food choices here. So you can mix-and-match or order other stuff if you find that hakka style cooking doesn't suit your tastebuds.
Email this page
---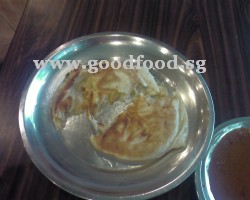 The dish seen here is a 'roti bomb' which is a prata with ingredients tasting like a mix of condensed milk, margarine and banana ! It's not in the menu and will set you back by $1.50 - overpriced in my opinion.
Categories: Indian, Roti Prata, Halal-Muslim
Located at Springleaf Garden, 1 Thong Soon Avenue, Singapore 787431

Show me on map
Situated at a corner shophouse in a quiet suburb off Upper Thomson Road, this (mainly) air-conditioned prata joint offers teh tarik, murtabak and a range of thosai(dosai) from plain to cheese to mushrooms. Of course, you get the usual pratas(plain, and various combos of cheese, onion and egg) and some innovations, like the prata bomb. Limited seats are available outside too (for smokers).
Email this page
---
Thasevi Food Original Roti Prata - still looks a lot like it used to over the years.
Categories: Halal-Muslim, Teh Tarik, 24hrs, Rojak (Indian), Roti Prata
Located at 237-239 Jalan Kayu., Singapore 799461

Show me on map
I've not been frequenting this prata place since a few years back (~2005) because I somehow started liking the others at Casuarina Road (Shibly's my fav btw). Boy was I shocked when I came on a Sunday evening (~10pm) in March 2007. First thing that surprised me was the lack of a crowd. Only when I proceeded to order did I realize the teh tarik here is selling for $1 ! And that was before the GST increase in July'07 ! Another gripe is that you have to queue up to order and pre-pay at the counter - don't complain folks, no service charge here ! Stay tuned for my next update on this shop, maybe next year (2008) or 2009.
Email this page
---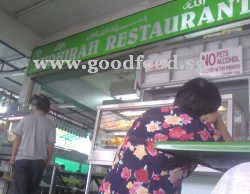 Thohirah Restaurant, the other Jalan Kayu prata place.
Roti prata kosong and roti prata egg with the usual teh tarik
Categories: Halal-Muslim, Teh Tarik, 24hrs, Nasi Bryani, Roti Prata
Located at 258 Jalan Kayu., Singapore 799487

Show me on map
This is the other major prata shop at Jalan Kayu. A decent place for a decent piece of prata, but not exactly one that I'll go out of the way for (and it IS out of the way unless you live nearby in Jalan Kayu, Yio Chu Kang Road or the recently populated Sengkang East / Fernvale HDB estates. There's an LRT station (Fernvale) nearby, probably 10 minutes' walk or more away. And it seems a future one (Thanggam) will be even closer. Go figure.
Email this page
---
Categories: International, Western Food,
Located at 277 Jalan Kayu, Singapore 799505

Show me on map
Email this page
---

login
to post comments |
email this page