Northwest
The Northwest zone covers places like Bukit Panjang area, Bukit Batok town, Choa Chu Kang town, the Upper Bukit Timah area, Yew Tee and the Kranji area.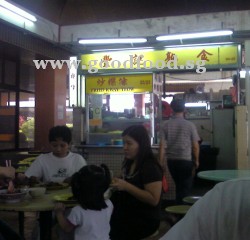 Feng Ji Shu Shi's char kway teow is good and cheap !
Categories: Chinese, Char Kway Teow, Noodles, Hawker
Located at #04-45 Beauty World Centre, 144 Upper Bukit Timah Road, Singapore 588177

Show me on map
This corner stall is found in an open-air hawker centre located at the 4th floor of this old shopping centre that has seen better days. The hawker centre is an anomaly that seems to be in a timewarp stuck in the 80s. A rare find in an age ruled by the Kopitiams and Food Junctions.
It produces some of the better fried kway teow in this area. If you don't want prata or the over-commercialized food eateries across at Cheong Chin Nam Road opposite this centre, then try this stall, gaze out over to Bukit Timah as you eat and let the surroundings bring you back to the 80s.
Email this page
---

login
to post comments |
email this page