Popiah
Spring roll. 'Popiah' is a Chinese dialect literal for 'thin biscuit', a reference to the thin flour skins used to wrap the spring rolls' ingredients (usually a turnip base with some carrot strips) which are then fried to a brown biscuit-like crispiness. There is also a version that is served with a soft skin wrap that is not fried.
Categories: Chinese, Popiah, Laksa, Peranakan Nonya
Located at #02-02 Coronation Plaza, 587 Bukit Timah Road., Singapore 269707

Show me on map
Email this page
---
Kway Guan Soon (popiah) is opposite the Masjid Khalid (mosque) and about 5 minutes walk in from Joo Chiat Complex.
Categories: Chinese, Popiah, Cakes and Pastries
Located at 95 Joo Chiat Road., Singapore 427389

Show me on map
This popiah (spring roll) shop has been in business since 1938. Varieties include popiahs made from turnips, carrots, tau kwa (dried beancurd/tofu) and crab meat. Also has kueh pie tee (a nonya snack made like a crispy little cup with turnip and other ingredients).
Email this page
---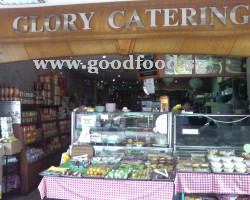 Glory Catering's restaurant outlet at Katong near the junction of Joo Chiat Road and East Coast Road.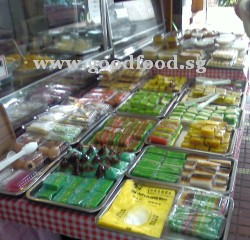 The shopfront displays a wide range of kuehs, agar-agar, coconut pastries and snacks.
Categories: Cakes and Pastries, Nasi Padang, Peranakan Nonya, Malay Kueh, Popiah, Halal-Muslim
Located at 139 East Coast Road., Singapore 428829

Show me on map
This is the Katong outlet and restaurant of Glory Catering which makes a wide range of traditional confections, kuehs, and festive snacks. The shop is a mini-restaurant (air-con) where you can savour nasi padang and curries. The front of the shop displays and sells a wide range of fresh kuehs, agar-agar (seaweed jelly), glutinous rice dumplings (bak chang) and packaged festive cookies and snacks (peanut biscuits, pineapple tarts, egg rolls and tarts etc). All the food is halal including the bakchang, so you only get chicken meat in the meat version of the dumplings.
Email this page
---

login
to post comments |
email this page