Roti Prata
A dough-based flat pancake that is cooked by heating over a flat grill plate. The origins of this Indian dish is a story in itself. It has its roots in southern India*, possibly the city of Chennai (formerly Madras), where it is called parata (variations include parotha or paratha). In Malaysia, this dish is in fact named Roti Chennai (also spelled "roti chanai" or "roti canai"), after the city. Roti prata is commonly served with curry (either vegetable or meat curries), but it is not unusual to see it being eaten plain with white large-grain sugar. Prata-making has been refined to such an art that if you're lucky, you'll sometimes see cooks get theatrical with the flipping and turning of the prata as it's being cooked over the plate.

* Another source (Anasuya Balamurugan) attributes this dish to Punjabi or vaguely "Muslim conqueror" origins. Wherefrom the "Muslim conquerors" hailed wasn't made clear, and my guess is it could have been in reference to the Arabs or Turks. Another close cousin to the prata is the naan(also spelt "nan" or "na'an"), which is common in northern/north-western India(Punjab, Rajasthan) and Pakistan. Although made differently (by baking in a tandoor, which is an oven made of clay), it is similar in terms of texture and ingredients.
Categories: Indian, Roti Prata, 24hrs, Halal-Muslim
Located at 18 Clementi Road (off Kent Ridge Bus Terminal), Singapore 129747

Show me on map
Teh tarik and a range of the usual and creative prata dishes are available at this row of food shophouses popular with NUS students and west coast residents. Next to Niqqi's is a nasi lemak coffeeshop well-frequented by night birds as well.
Email this page
---
Komala Vilas Restaurant is located along Serangoon Road right smack in the middle of little India and near the famous Tekka market
A bhattura (bhatura) is served puffed up with steamy hot air.
The dish comes with chickpeas or channa(chana) dal, fresh onions (really crunchy ones), green chilli and a slice of lemon.
Hot milk tea served up in a stainless steel cup. You also have a choice of other teas such as masala tea and ginger tea.
Categories: Indian, Vegetarian (Indian), Roti Prata, Teh Tarik, Vadai, Thosai
Located at 76 Serangoon Road, Singapore 217981

Show me on map
This is a no-frills air-conditioned shop that has been around for decades. Offers a wide variety of vegetarian Indian dishes such as chapati, poori (puri), masala thosai (dosai), parota (prata), mango lasi (yoghurt drink), bhattura (or batura) (see photo) and vadai. The shop also sells a variety of Indian sweets (mithai). On a good day, the hot tea here can be really good. It may have spawned a fast-food chain bearing the same Komala name, but this shop is the original and serves up the real thing !
Email this page
---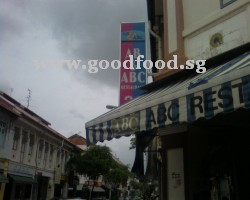 AB & ABC Restaurant is at a corner shophouse of Joo Chiat Road and Duku Road.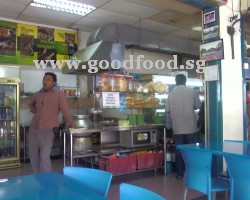 You can get a range of Malay-Indian food and snacks here.
Not your usual teh tarik - try the masala tea (teh masala or masala chai) which is made with a blend of spices including cloves and cinnamon.
Categories: Halal-Muslim, Nasi Bryani, Roti Prata, Teh Tarik, 24hrs, Mutton Soup (Indian Muslim)
Located at 365 Joo Chiat Road, Singapore 427610

Show me on map
This is a cozy Indian-Muslim tea and makan place nestled among the shophouses of Joo Chiat. One of the few roti-prata-teh joints that serve masala tea (chai) in Singapore.
Email this page
---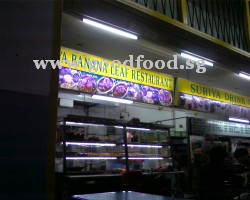 Get your nasi brani, roti prata and teh tarik here.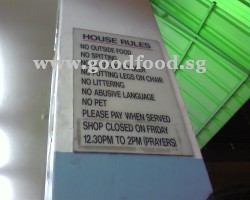 Strict house rules ! Suriya is open 24 hours daily except Friday noon-2pm for prayers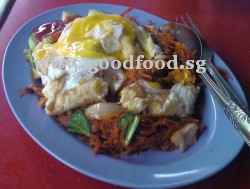 Bee hoon goreng with egg. Slurpz !
Categories: Halal-Muslim, Teh Tarik, 24hrs, Roti Prata
Located at 536A Upper Serangoon Road., Singapore 534552

Show me on map
Email this page
---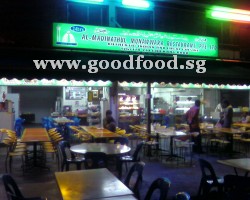 Al-Madinathul Munawwara at Yio Chu Kang Road - or what I call YAPP (yet another prata place)
Categories: Halal-Muslim, Teh Tarik, 24hrs, Roti Prata
Located at 176-178 Yio Chu Kang Road., Singapore 545626

Show me on map
This spacious 24hr prata/teh-tarik place is located at a stretch of Yio Chu Kang Road near the junction with Serangoon Garden Way. This one has a corner stall that sells satay and halal bbq seafood. You'll be spoilt for choice in this area as there are at least 3 other round-the-clock prata/Indian food eateries beside this one. The main grouse here is that there aren't much proper parking lots (double-yellow) at this stretch, although the TP tends to leave this relatively quiet place alone.
Email this page
---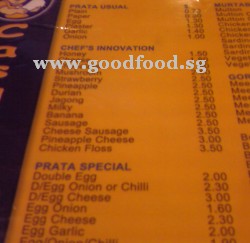 A long long time ago... in a galaxy far far away....there was a mind-boggling range of pratas...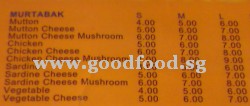 A wide range of murtabak options !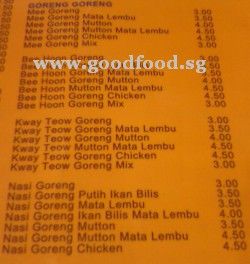 Goreng once, goreng twice, goreng 26 times !
Categories: Indian, Roti Prata, Halal-Muslim
Located at 136/138 Casuarina Road., Singapore 579524

Show me on map
Teh tarik, murtabak and thosai(dosai).
Email this page
---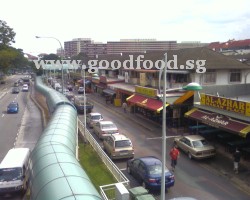 Cheong Chin Nam Road - definitely the most popular food street this side of Upper Bukit Timah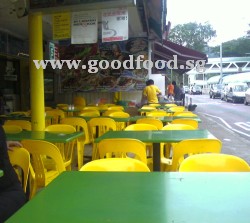 Al-Ameen Eating House is near the junction with Chun Tin Road not far from the big public carpark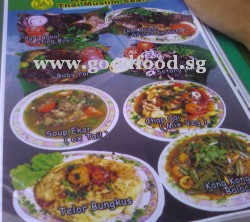 Al-ameen's Thai Muslim seafood menu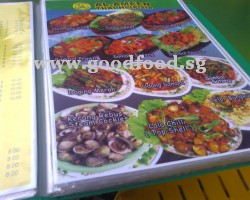 Al-ameen's Thai Muslim seafood menu 2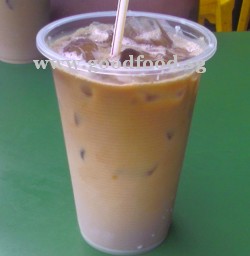 Tehcino bing (cappucino-style iced tea with milk)
Categories: Halal-Muslim, Teh Tarik, 24hrs, Zhi Char, Seafood, Roti Prata
Located at 2 Cheong Chin Nam Road., Singapore 599727

Show me on map
Situated along Upper Bukit Timah Road, opposite Beauty World Plaza, this popular 24-hour prata and teh tarik place also serves Thai-style Muslim halal seafood dishes as well as Chinese-style zhi-char dishes. There is an in-door air-conditioned room but it's usually stuffy when fully seated. This chain has expanded to a few other places but I'm not sure if they're still operating at those locations.
Food quality is generally decent and above average - although I admit I've not even covered 10% of what they offer in the menu. The range is quite amazing and impressive, though I wonder how the kitchen keeps up stock and quality given such a wide range. But lest we forget, they ARE the *biggest* eatery on this road.
Email this page
---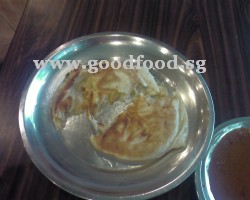 The dish seen here is a 'roti bomb' which is a prata with ingredients tasting like a mix of condensed milk, margarine and banana ! It's not in the menu and will set you back by $1.50 - overpriced in my opinion.
Categories: Indian, Roti Prata, Halal-Muslim
Located at Springleaf Garden, 1 Thong Soon Avenue, Singapore 787431

Show me on map
Situated at a corner shophouse in a quiet suburb off Upper Thomson Road, this (mainly) air-conditioned prata joint offers teh tarik, murtabak and a range of thosai(dosai) from plain to cheese to mushrooms. Of course, you get the usual pratas(plain, and various combos of cheese, onion and egg) and some innovations, like the prata bomb. Limited seats are available outside too (for smokers).
Email this page
---
Thasevi Food Original Roti Prata - still looks a lot like it used to over the years.
Categories: Halal-Muslim, Teh Tarik, 24hrs, Rojak (Indian), Roti Prata
Located at 237-239 Jalan Kayu., Singapore 799461

Show me on map
I've not been frequenting this prata place since a few years back (~2005) because I somehow started liking the others at Casuarina Road (Shibly's my fav btw). Boy was I shocked when I came on a Sunday evening (~10pm) in March 2007. First thing that surprised me was the lack of a crowd. Only when I proceeded to order did I realize the teh tarik here is selling for $1 ! And that was before the GST increase in July'07 ! Another gripe is that you have to queue up to order and pre-pay at the counter - don't complain folks, no service charge here ! Stay tuned for my next update on this shop, maybe next year (2008) or 2009.
Email this page
---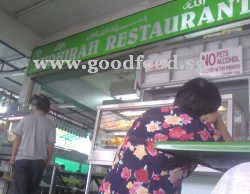 Thohirah Restaurant, the other Jalan Kayu prata place.
Roti prata kosong and roti prata egg with the usual teh tarik
Categories: Halal-Muslim, Teh Tarik, 24hrs, Nasi Bryani, Roti Prata
Located at 258 Jalan Kayu., Singapore 799487

Show me on map
This is the other major prata shop at Jalan Kayu. A decent place for a decent piece of prata, but not exactly one that I'll go out of the way for (and it IS out of the way unless you live nearby in Jalan Kayu, Yio Chu Kang Road or the recently populated Sengkang East / Fernvale HDB estates. There's an LRT station (Fernvale) nearby, probably 10 minutes' walk or more away. And it seems a future one (Thanggam) will be even closer. Go figure.
Email this page
---

login
to post comments |
email this page