Sarabat
The unnamed sarabat stall along Baghdad Street.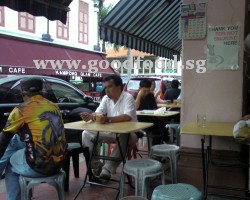 A lazy afternoon, everybody's 'chilling out' with their cup of tea. In the background is Kampong Glam Cafe - more glam than this sarabat stall for sure.
Categories: Halal-Muslim, Teh Tarik, Sarabat
Located at 21 Bussorah Street. (Along and at junction with Baghdad Street), Singapore 199439

Show me on map
One of the oldest surviving milk tea (sarabat) stalls in town. This stall still sells its full glass of milk tea for 60 cents !
Email this page
---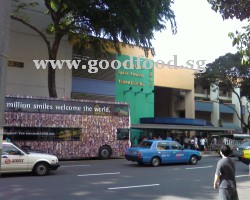 Tekka Centre comprises a market and food centre. It is located next to the busy road junction of Sungei Road and Serangoon Road, opposite the Tekka Mall shopping centre.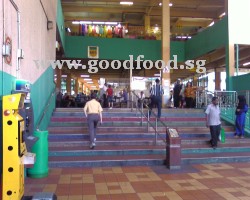 Tekka Centre has a good mix of Chinese, Malay and Indian food. Walk further into the centre, and you'll find the wet market selling meats, seafood, spices and fresh vegetables
Categories: Halal-Muslim, Sarabat, Teh Tarik
Located at #01-320 Tekka Market and Food Centre, Block 665 Buffalo Road, Singapore 210665

Show me on map
This is one among the many stalls that serve masala tea (chai masala) in Tekka Food Centre. I've tried a few stalls but this one is my preferred. The tea comes with a generous scoop of masala powder and isn't too sweet unlike that from stall #01-327. In total, I counted 4 drinks shops - #320, 322, 325 and #327 - all selling teh masala and ginger tea (teh halia) within the same row of stalls. This must undoubtedly be Singapore's Masala Tea Row ! The other shops in the row are all halal food stalls selling mutton soup, chicken/mutton bryani, mutton chops, tulang (mutton bone with marrow), roti prata, Indian rojak and other local Malay/Indian dishes. Just this row of hawker stalls alone makes it worth your while to visit Tekka Market & Food Centre.
Email this page
---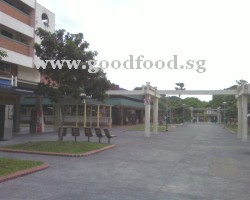 Changi Village Market & Food Centre up ahead, as seen when walking in from Changi Village Road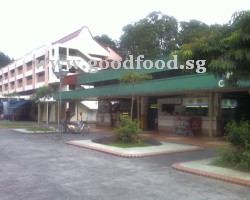 Changi Village Market and Food Centre Block 2, where most of the food stalls are located.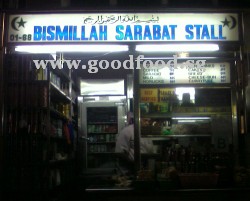 Bismillah Sarabat Stall is the only teh tarik stall open in the pre-dawn hours at Changi Village Food Centre
Categories: Halal-Muslim, Teh Tarik, Cakes and Pastries, 24hrs, Sarabat
Located at #01-68 Changi Village Market & Hawker's Centre, Block 2, Changi Village Road, Singapore 500002

Show me on map
Not exactly 24 hours, but this stall opens around 4am everyday till late at night. A fishball noodle stall opposite them is one of the few other food stalls at this hawker centre that were open at 5am when I visited on a weekday.
Email this page
---

login
to post comments |
email this page