Seafood (BBQ)
Seafood barbequed over a grill. Popular dishes include stingray(cooked in a banana leaf), prawns and shellfish (stir-fried) in chilli sauce.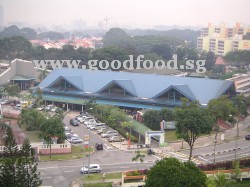 Ayer Rajah Food Centre is situated near the junction of West Coast Road and West Coast Drive, beside the Jamiyah Nursing Home and opposite a Chinese temple.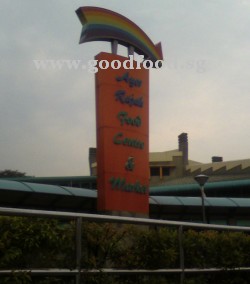 Ayer Rajah Food Centre is home to many Muslim halal food stalls including the famous 'from Shenton Way' mutton soup and mee goreng stalls.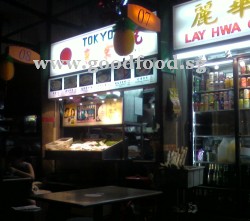 Tokyo BBQ is a hawker stall located at a quiet side of Ayer Rajah Food Centre at West Coast Drive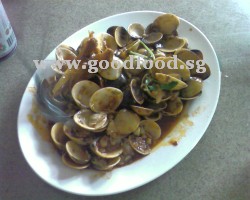 A plate of spicy chilli lala. The chilli sauce was so good everyone was just lapping it up - almost ;-).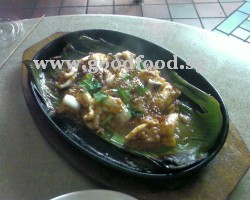 Spicy sotong served on banana leaf on a sizzling hotplate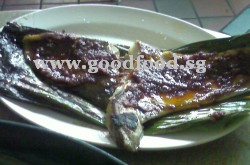 A plate of stingray barbequed with banana leaf wrap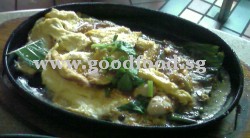 A hotplate of oyster omelette
Categories: Chinese, Seafood (BBQ), Hawker
Located at #01-07 Ayer Rajah Food Centre, Block 503 West Coast Drive, Singapore 120503

Show me on map
I was concerned when I arrived 9pm on a Tuesday night to see no other customers at this stall. In fact, the row of hawker stalls at this hawker centre seemed to have gone on strike, with most closed, and the food centre ceiling lights turned off.
It was getting late, so my friends and I proceeded to order - bbq sotong, stingray, oyster egg, and lala (small white clams). To our delight, the food tasted really good. Perhaps it was the fact that the stall owner just had his dinner or that he had no other customer orders to rush through, but I think the secret to the drool-inducing dishes was in the chilli sauce that seems to be used on every dish. My guess is that the owner has put in much effort in cooking his chillis to bring out the flavour. And to top it off, the four dishes(with rice) I ordered for 4 persons cost only $35. Highly recommended despite their limited range of dishes.
Email this page
---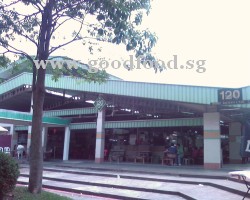 Don't let the sleepy surrounding HDB shophouses fool you, Alexandra Village Food Centre comes alive at night and during lunch hours with the makan crowd.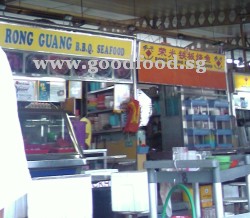 Rong Guang BBQ Seafood occupies three units (from #01-07) at Alexandra Village Food Centre Block 120 Bukit Merah Lane 1.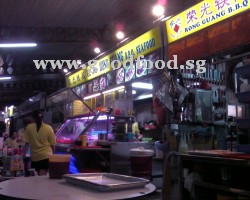 Rong Guang BBQ Seafood opens for business from about 5pm till 11pm.
Categories: Chinese, Seafood (BBQ), Hawker
Located at #01-07/8/9 Alexandra Village Food Centre, Block 120 Bukit Merah Lane 1, Singapore 150120

Show me on map
Try the barbeque stingray served in banana leaf and the deep-fried baby sotong (squid) here. The food is above average and $10 per person should be sufficient for a decent dinner here.
Email this page
---
Categories: Chinese, Seafood (BBQ), Hawker
Located at #01-258 Market & Food Centre, Block 85, Bedok North Street 4, Singapore 460085

Show me on map
Email this page
---
Chomp Chomp (Serangoon Garden Food Centre) by day. Most stalls only open in the late afternoon till late at night
Chomp Chomp by night, bustling with diners till late
Categories: Chinese, Seafood (BBQ), Hawker
Located at #01-01 Serangoon Garden Food Centre (Chomp Chomp), 20 Kensington Park Road, Singapore 557269

Show me on map
Email this page
---
Chomp Chomp (Serangoon Garden Food Centre) by day. Most stalls only open in the late afternoon till late at night
Chomp Chomp by night, bustling with diners till late
Categories: Chinese, Seafood (BBQ), Hawker
Located at #01-08 Serangoon Garden Food Centre (Chomp Chomp), 20 Kensington Park Road, Singapore 557269

Show me on map
Email this page
---

login
to post comments |
email this page