Zhi Char
An all-rounder Chinese food stall serving a wide variety of a la carte dishes usually with white steamed rice and soups. A zhi char stall usually has the highest sales turnover of the eating outlet that it occupies and thus forms the anchor tenant and main draw of the eating place, typically a coffeeshop. Also spelled 'zhi cha', 'zi char', 'zi cha', 'cze char', 'tze char'; in Mandarin, 煮炒 (pinyin: zhu2 chao3) which literally means 'cook & fry', in reference to the de rigueur use of frying (almost always with woks) in preparing most dishes.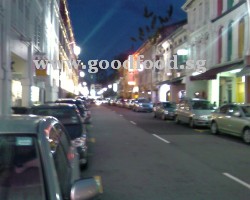 Lee Kui Restaurant is found at Mosque Street, about 5 mins walk from Chinatown MRT (NE4) station.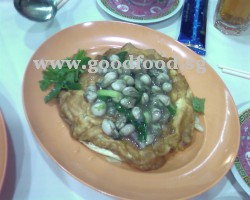 Lee Kui Restaurant's oyster egg comes with a generous serving of oysters.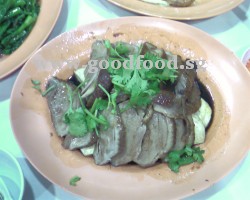 The 'goose' meat dish which is really duck meat !
The $28 braised pig trotters with chestnuts. Rather expensive considering it was very average and weak-tasting. At this price, I'd rather go for a German deep-fried knuckle version.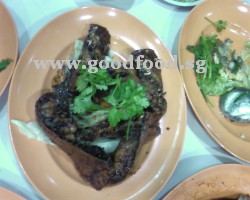 Pepper crayfish. One of the better dishes. A pity we didn't try the (steamed) fishes, which should be the pride and highlight for any Teochew restaurant.
Categories: Teochew, Zhi Char, Cold Crab
Located at 8/10 Mosque Street., Singapore 59488

Show me on map
This teochew restaurant has the usual dishes. However, note that the only crab dish here is the cold crab which is more expensive ($50/kg) than what you would be paying for a similar sized Sri Lankan chilli/pepper crab at other restaurants like Jumbo or Long Beach. Another traditional Teochew dish is the braised pig's leg with chestnuts (ter ka gao-luck) - which I find run-of-the-mill and expensive at $28 although it came as a rather large-sized one. You can get a similar half-sized braised pig trotter for about $5-10 at most bak kut teh or kway-chap hawker stalls.
Email this page
---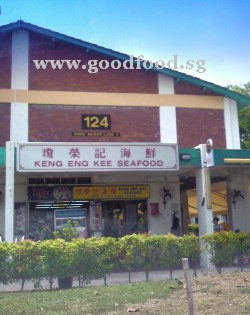 Keng Eng Kee Seafood occupies a corner coffeeshop of Block 124 Bukit Merah Lane 1.
Categories: Chinese, Seafood, Zhi Char
Located at Block 124 Bukit Merah Lane 1, Singapore 150124

Show me on map
Email this page
---
Categories: Chinese, Zhi Char, Seafood
Located at 25/27 Tyrwhitt Road, Singapore 207531

Show me on map
This corner-coffeeshop-located eatery is popular for their pepper crayfish and belacan fish (which is not as fresh as I would like it to be, although this is expected for fried fish dishes as most Chinese chefs know to reserve their better stock for steamed fish dishes.). Still, it is one of the more consistent and affordable zhichar/seafood shops around. More than a decade ago, it was situated in an old pre-war shophouse near Beach Road, then it moved to Lavender Street (beside the MRT station) and for the past few years it has been operating at this little side road parallel to Jalan Besar, near the Jalan Besar Stadium / Swimming / Sports Complex. It seems to have opened a branch (223 Rangoon Road) and another along Mountbatten Road (to be verified) in the past few months (2006).
Email this page
---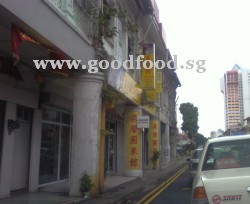 Quan Xiang Yuan Seafood Restaurant is in an old shophouse along Jalan Besar.
Categories: Zhi Char, Hokkien, Seafood
Located at 252 Jalan Besar, Singapore 208925

Show me on map
This is a traditional Hokkien cuisine restaurant in an old shophouse near the Jalan Besar Stadium and not far from Eminent Plaza. The specialties here include roasted duck served in sweet plum sauce, crab bee hoon (you have a choice of fried or soup versions) - the bee hoon itself has two variations the normal beehoon (米粉) and the tang hoon (冬粉) version which is a clear glassy noodle (they name it 'vermicelli' here which I believe isn't exactly correct). Dine in comfort be it lunch or dinner as the eatery is fully airconditioned. Tel: 6294-6254, 6292-9251.
Email this page
---
Categories: Chinese, Zhi Char, HengHwa
Located at Extra 1 Eating House, 276 Race Course Road, Singapore 218628

Show me on map
Email this page
---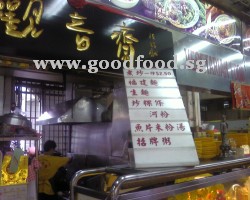 Kwan Inn Vegetarian Food's most popular dishes seem to be their mimic zhi-char dishes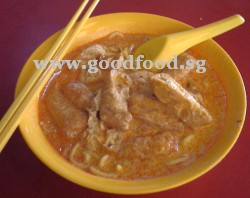 This hearty bowl of vegetarian laksa costs $2. A decent attempt, considering that no shrimps, belacan or ikan bilis could be used here
Categories: Chinese, Vegetarian (Chinese), Laksa, Yong Tau Foo, Zhi Char, Hawker
Located at Block 134, Geylang East Avenue 1., Singapore 380134

Show me on map
I'm told this vegetarian eatery was a previous Yummy King winner. It actually consists of a few stalls in a coffeeshop selling various vegetarian dishes that mimic conventional Chinese hawker food. The coffeeshop is at a corner-end of a row of HDB shophouses facing Sims Avenue. Some Buddhist temples are found in this area of Geylang, which explains why you'll see the occasional nun or monk buying their food at this shop. There are zhi-char-style vegetarian dishes, a vegetarian yong tau foo stall and a mixed rice/beehoon stall. Prices are very reasonable from $2 up. I've tried the mixed bee hoon several years ago which didn't leave any impression. A more recent visit saw me having a bowl of laksa which was pretty decent tasting considering that they couldn't use animal-based ingredients and condiments that many a good laksa maker tends to use, such as dried shrimps, mini ikan bilis (chinese silver fish 银鱼) and belacan paste. I'll be back soon for the zhi-char noodle dishes which seem to be popular going by a survey of the diners here.
Email this page
---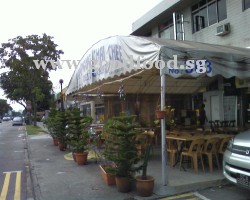 Kampong Chai Chee Restaurant is at a shophouse along Changi Road opposite the junction with Telok Kurau.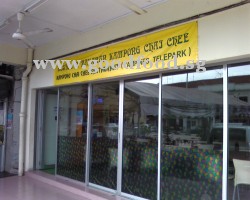 It actually occupies 2 shop units, one of them being air-conditioned.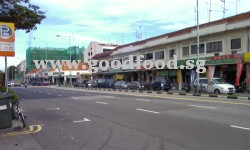 Across the road, there is no lack of eateries as well. One of the more well-known, for Indian curry fish head, is Thondamans Restaurant.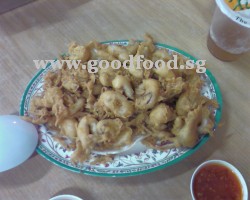 Kampong Chai Chee Restaurant's generous serving of fried calamari (sotong) rings
Categories: Zhi Char, Chinese, Crab, Seafood, Halal-Muslim
Located at 303 Changi Road (near Lorong Sarina)., Singapore 419781

Show me on map
This halal zhi-char (Chinese-style ala carte stir-fried dishes) eatery used to be located at Tampines Telepark building where it had a popular following. They've since moved to this shophouse along Changi Road next to a pet provisions shop. One of the few halal coffeeshop-style zhi-char eating places.
Email this page
---
Joo Heng Restaurant is situated near the central part of Joo Chiat Road.
Categories: Chinese, Zhi Char, Hawker
Located at 360 Joo Chiat Road, Singapore 427605

Show me on map
Email this page
---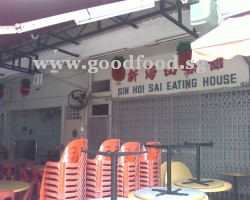 Sin Hoi Sai Eating House opens from 5pm till past midnight
Categories: Chinese, Zhi Char, Hawker
Located at 187 East Coast Road., Singapore 428893

Show me on map
Email this page
---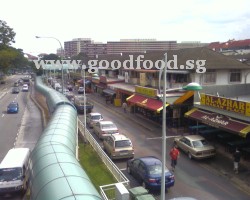 Cheong Chin Nam Road - definitely the most popular food street this side of Upper Bukit Timah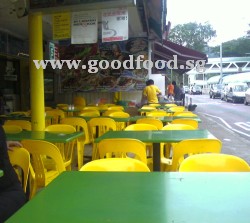 Al-Ameen Eating House is near the junction with Chun Tin Road not far from the big public carpark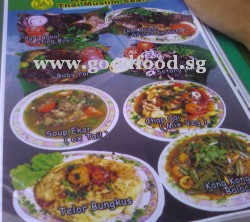 Al-ameen's Thai Muslim seafood menu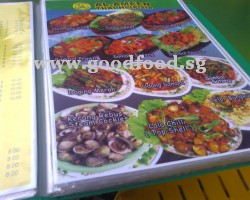 Al-ameen's Thai Muslim seafood menu 2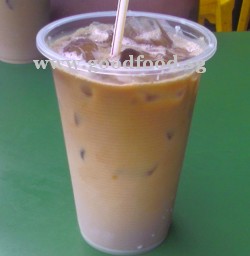 Tehcino bing (cappucino-style iced tea with milk)
Categories: Halal-Muslim, Teh Tarik, 24hrs, Zhi Char, Seafood, Roti Prata
Located at 2 Cheong Chin Nam Road., Singapore 599727

Show me on map
Situated along Upper Bukit Timah Road, opposite Beauty World Plaza, this popular 24-hour prata and teh tarik place also serves Thai-style Muslim halal seafood dishes as well as Chinese-style zhi-char dishes. There is an in-door air-conditioned room but it's usually stuffy when fully seated. This chain has expanded to a few other places but I'm not sure if they're still operating at those locations.
Food quality is generally decent and above average - although I admit I've not even covered 10% of what they offer in the menu. The range is quite amazing and impressive, though I wonder how the kitchen keeps up stock and quality given such a wide range. But lest we forget, they ARE the *biggest* eatery on this road.
Email this page
---

login
to post comments |
email this page